GETTING

WRITING HELP

IS SO EASY WITH US
Choose the type, level, urgency, and length to start off.
How to Write an Abstract for a Research Paper Effectively
You'd probably want to watch the trailer before watching a movie. A research paper abstract is similar to that. If you're going to write properly structured research, you'll need a summary written according to the generally accepted requirements.
It is common practice for professors to check your synopsis before reading the whole thing. So, how to write an abstract for your research paper effectively? Check the article below for the details!
The Abstract Definition
An abstract for a research project is a short synopsis of your paper designed to give the reader a generalized idea of your work, methods applied, and other essential aspects pertinent to the manuscript.
Also, when you publish your research, the readers will go through your abstract first. Based on the impression it leaves, they will decide whether your paper is worth viewing or not.
Types of Research Abstracts
Most of the abstracts are informative. However, there are four other types that you should be aware of, which makes it five:
1. Highlighting
This one is a more concise version of an abstract that must draw the reader's attention from the first sentence. It should be worded in simple terms, convey the nature of the research, show the most significant findings, and sum up the contribution of the study. Also, you can present highlights in bullet points that give a brief overview of the most significant results.
2. Descriptive
This type describes someone else's paper and is limited to 100 words. It specifies the purpose of the study and its background information but does not provide any data regarding the methods, results, and conclusions.
3. Critical
This one is a smaller version of a critical review. It should provide all the necessary information about the study and judgment regarding the validity and breadth of the research. This type is longer (up to 500 words) but is not used as often as the rest.
4. Informative
Used for research papers and other documents that require strict structuring, an informative abstract does not provide critique or evaluation but is not confined to a simple description. It acts like a miniature version of the paper.
5. Indicative
Writers use this abstract type for less structured documents like essays or books. It consists of three parts: scope, arguments, and conclusions. The first part indicates the range of material and its starting premise. The second part states the central arguments and counterarguments in the same order they are presented in the document. And, the third part gives the closing argument and the author's implications.
Writing Guidelines
The main purpose of a research paper abstract is to familiarize the audience with the key findings and essential points of the entire study. The format might depend on the scientific area, but usually, its structure goes as follows:
Purpose and motivation
This first part announces the problem you want to solve or the issue you set out to investigate. It might also explain why the research is relevant and why it is significant for further studies.
Methods and approach
Once you finish articulating the importance of your work, you can move to the next part: explaining how you conducted the research. But, make sure you include only essential information without going into too much detail.
Results (or Findings)
Here, you provide the readers with the summarized outcome of your study. Pull out numbers and percentages and try to limit the usage of qualitative words like "large" or "quite." You can state whether the results were expected or not and whether your research proved to be successful.
Conclusions and Implications
In this last part of a research abstract, you should discuss the results and their possible importance for the field or even the world. Avoid boasting and over-ambitious statements because such might become subject to critique.
The length of your abstract should not exceed 300 words, but sometimes, it's quite difficult to write within this limit (especially if you did a great job and conducted profound research).
We hope that our synopsis writing tips will help you dispel any doubts concerning the quality of your abstract:
Write this section after you complete and reread your research paper.
Scam every chapter of your study thoroughly and select the most relevant aspects that must go into your abstract.
You won't get by with mere copy-pasting central sentences from the paper because you risk including too much or insufficient information. You need to sum it up in a different way.
nm
Avoid phrases like "this paper" or "this article." It is better to use "research" or "study."
Use active voice whenever you can.
Avoid ambiguity and incomplete sentences.
Take a look at good examples of abstracts. There should be research papers in the library for you to scrutinize. Alternatively, you can ask your professor for a few samples.
Revise your abstract to check the word count, see if there are no redundant data, and make sure you have included core information.
When your finalized draft is ready, ask yourself:
Is this abstract clear, concise, and coherent?
Does it cover every major element of my paper?
Does it summarize the material without adding any new information?
If all the answers are "yes," you are on the right track. But, if you still find it difficult or doubt your draft, you can hire our professional writer or editor to ensure the best outcome.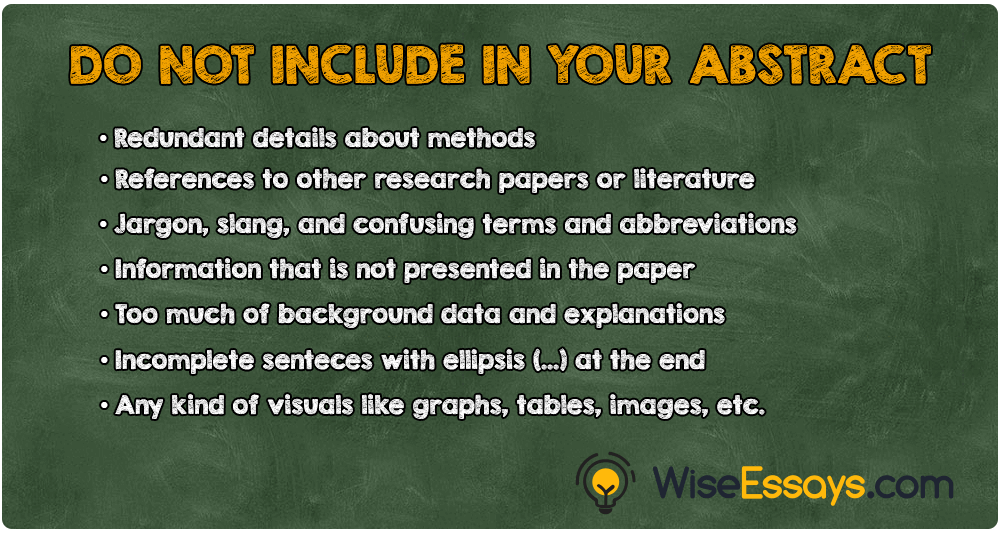 Research Paper Abstract Example
We suggest you look at the research abstract sample below to get a better idea. However, note that we highlighted its main parts for educational purposes. You should write your abstract in one or several simple paragraphs.
Research Topic: "Examination of vegetation change after soil erosion."
Purpose: Identify the early stages of ecological succession after soil disturbance.
Objectives:
Identify the ground vegetation species composition at the early stages of succession;
determine the phytocoenosis change direction over 3 years;
project further development of the phytocoenosis under study.
Methods: observation and random area sampling.
The study examines the vegetation change after soil erosion that causes ecosystem shifts. The research revealed that pioneer species started to appear on the disturbed soil. Ten sample areas were studies, and their major characteristics are provided in this paper (species composition, abundance, etc.).
The result is given in the form of tables and makes it possible to identify the vegetation species composition at the early stages of succession and predict the further development of the phytocoenosis under study.
Bottom line
You should not slack off when writing your abstract if you want to get an attention-drawing research synopsis. But, it might happen that your brain just refuses to work because of fatigue or anxiety over the deadlines. Should that happen, consider getting your abstract or the whole research paper from our service. Feel free to contact us at any time!
back to all posts
Our Customer Reviews
More than 176 testimonials from clients make up a 9.6/10 rate of success, making our organization one of the best in the industry.
Customer #6748

"Thank you for help with my thesis formatting! You are real experts, and now I'm free and happy thanks to you!"

Customer #6600

"It was a torture to see my daughter spending sleepless nights over so many college papers. So I decided to help her purchase her first paper from WiseEssays. Now she regularly orders from you. And I can see that she has become much more effective as a student. Thanks for excellent services."

Customer #6378

"No, not all of us have time to write A-grade essays AND keep up with our jobs. Ugh, some of the people from my year are against using writing services, but they just never tried it! It's easy, cheap, fast, and convenient! I've never received less than a B for the essays I order from you. No matter the subject, you're always delivering."

Customer #6222

"Never before has my powerpoint presentation been so awesome! It has everything - minimalistic design, a good number of slides and solid facts! Your team is just incredible :)"

Customer #6085

"I am so grateful to you people! I hate math but I have it as my compulsory freshmen year class. If it weren't for you, I would've failed it long ago, but you always help me out flawlessly!"

Customer #4112

" I still prefer to write papers myself but I always require help with editing and formatting. I am lost with all those styles, quotes. I like researching and composing but I can not make it look professional. You are my scholar helper!"